Print this page
Another Ode to Mercury Retrograde
4.21.10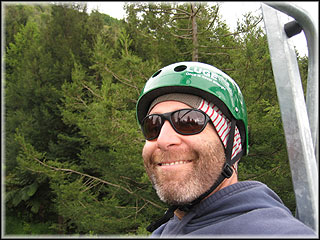 I thought I was going to spend the day writing a different article than this one.
Enter unexpected emotional turbulence, 'heavy' news and an equally weighty 'relationship discussion'… and suddenly I'm in no mood to write that other thing.
In fact, writing has altogether been scrapped, in exchange for doing a deep clean on my office area… purging papers, dusting curios, organizing, making piles for Goodwill. Essentially, I am reclaiming the 'office' as my actual office, since, lo and behold, my partner doesn't actually like me using our living room sofa and coffee table as my desk (nor does he like the mean looks I give him when he interrupts my typing with a cute remark or an innocent question, though how is he supposed to know whether I'm writing horoscopes or posting stupid comments on my friends' status updates?).
Cue my copious tears, which weren't purely a result of the timbre of our conversation. That would never have brought me this far into hysteria had it not simultaneously triggered an emotional release also for my 'lost' ex(?)-friend and the grief our parting still causes, for my other two close friends who both have serious cancer diagnoses in their immediate families, and my own personal meditations on 'family'… maybe even a few extra Cancer-rising teardrops for simply how much pain and challenge strife seems to be out there right now, all over, and is it increasing every day? or is it our awareness of it, as something systemic that can no longer be ignored?
So I shift gears, versatile-Mercury-style, and tackle another pile of duty (ooh, yeah, pun definitely intended): directly working on behalf of my need for better boundaries between work life and personal life. Self-employed people and/or those who work from home know what I'm talking about, the tradeoff between that exhilarating freedom to set your own hours and come and go as you please and maybe meet a friend for an impromptu weekday lunch, which is always balanced against the fuzzy expectations about how long into the evening one can or should continue to tinker with this, that, or the other responsibility, and into the weekends, and on 'vacations' since it is my work and I can't just set it aside, now can I.
Turns out, spending a large number of my waking hours in that same spot on the couch… upright in seated position, important business papers strewn across coffee table (sometimes right next to the clean laundry I just folded an hour earlier), by day, then reclining with pillow and blankets, surfing the web and watching the tube and flipping through magazines, by evening, or sometimes in reverse or convoluted order. Not exactly 'boundaried', huh?
An unexpectedly weepy conversation with my sweetheart, and hearing that my haphazard merging of work-and-play on my sofa (comfy though it may be) was making him uncomfortable in our own living room, brought a previously-unaired, necessary-to-know fact to light. Cathartic tear-and-snot-filled release later, and here I am finally cleaning out my office. And it feels so good. And it wasn't what I'd planned to do today. And I have Mercury retrograde to thank.
Added bonus: Then, the inspiration which this whole somersault-of-a-day stirred actually attracted me back to the writer's desk—and yes, I'm writing at an actual desk in my actual office—and brought these words here to you, dear reader, today. Happy Mercury retrograde.