Print this page
Venus conjunct Pluto: Ooh La La
10.28.05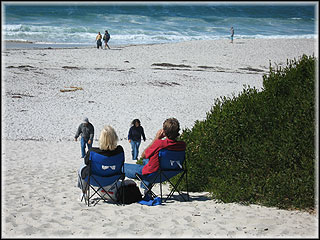 Venus and Pluto comes together in conjunction today (Fri Oct 28)… the aspect par excellence of profoundly powerful, intensely intimate, superhero-strength seduction.
So watch out for how, like a cartoon bunny being carried up and out of his rabbit hole and into the air once his nose catches the whiff of someone cooking creamy carrot soup next door, you may find yourself blindly following a sensation… happily helpless to stop the allure of what might happen next.
We'll all be voluntary victims of interpersonal exchanges and relationships that draw us way in, where we can hardly control how far we're willing to go—and how we may not want to control it. Maybe we'll say more than we meant to… or in a more meaningful, less casual tone. Maybe we'll accidentally stir some shit up with an innocent gesture gone south… and maybe it feels good to be bad.
Even our simple interests in things—a movie, a plate of food, that hand-knitted rug from Morocco, the legs on that celebrity hottie—may pull us past the normal bounds of appreciation, into the realm of obsession if we're not careful. Not that we should be careful. (Not that we shouldn't, either.)
The sign of this Venus-Pluto conjunction is Sagittarius, making it less likely that anyone will settle for halfway dabbling… especially when we could go for the gold, ignore the dilly-dally roadside-attraction detours, and head full blast for the finish line. For better and for worse (depends on your situation, folks), there's hardly any impetus to ask for details when the only big question lurking out there is, 'Why not?'
Of course, Mars retrograde in Taurus isn't so happy about all this risky, full-speed-ahead, to-hell-with-excuses Venus/Pluto. Need I remind you he likes his movement slow, steady, stable and with lots of practical explanation first? (Read up on him in case you've forgotten.) He makes an inconjunct (the 150-degree aspect of undercover strain) to them, and refuses to sanction strings-free frolicking of the caution-thrown-to-wind variety. He thinks we're just fine here, as we are.
Will you let Venus and Pluto carry you away into heart-pounding adventure? Will Mars in Taurus keep you down, for the relative security of knowing where you stand? Or will you actually permit both forces to act on you, to your highest well-being, and pull off that much-yearned-for, difficult-to-accomplish balancing act?