Print this page
GOT THINGS ON YOUR MIND? WE READ THEM LIKE WE SHOULD…
7.8.02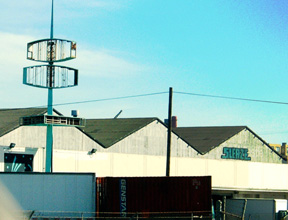 "I wanna be bad
You make bad look so good
I got things on my mind
I never thought I would..."
Willa Ford, "I Wanna Be Badquot;
OKAY, FIRST THING's first: I am not quoting this fluffy pop song as an endorsement of bad behavior. This week's column is not about crank calls or doorbell-ditching or toilet-papering your neighbor's house, although if you feel a need to let off steam in one of the aforementioned ways, I'll be happy turn to a blind eye—so long as the activities aren't directed at me.
No, I offer the unwise words above as my favorite example of how easy it is for careless lyricists to generate unintended irony from sugary pop crap. Here is unsuspecting Willa Ford, late-comer to the already floundering world of millennial teen pop, desperate to hit it big with her 2001 debut single, "I Wanna Be Bad". Clad in butt-hugging short-shorts and a lot of blonde hair, Willa warbles and wiggles through her video, essentially begging the audience of teen girls to abandon Britney and adopt her. After all, Willa is showing them what it's like to grow from good girl to bad girl. She sings, "I got things on my mind I never thought I would"—meaning, presumably, that her thoughts have turned from hopscotch & friendship bracelets to sex, drugs & rock-n-roll.
Wait. Perhaps I've gotten the punctuation wrong. It can be so hard to correctly surmise punctuation from a Top 40 chorus. Maybe, in fact, Willa sings, "I got things on my mind. I never thought I would." As in: "Suddenly my vapid air-filled head contains thoughts. I never would have expected such a thing to happen." Or: "Look at me, I'm an idiot!"
With the simple addition of a sentence break, the paper-thin premise of Willa's song is hijacked by a giggle-inducing second meaning drawing attention to her stupidity. Is it a mere coincidence that the victim of this syntactical blunder was already the source of ample online hatred, being the notoriously possessive former girlfriend of Backstreet Boy Nick Carter and thus the bane of so many teenage girls' existences? Or is it synchronicity rearing its otherworldly little head?
As any poststructuralist literary critic will attest, the instability of language is unavoidable. To put it bluntly, we can't control how others will interpret our words. And boy, that can be frustrating. But I believe it is these second or third interpretations of an utterance, more so than its most literal or intentional meaning, which can contain deeper cosmic resonance. At these moments, secret magical messages are available that reveal more about the speaker, the listener, and the environment surrounding the interaction than is readily apparent on the surface—if you choose to tap into them.
This week is ripe with chances to glimpse this hidden world of meaning, but it does require recognition of and surrender to the utter imprecision of speech. We are reminded again that Gemini time is over and Cancer time is here, as the Moon travels across their cusp at the beginning of the week. Knowing ahead of time that you are apt to be misinterpreted if you say too much, it could be wise to say less and choose your words more carefully. Speak sparsely and evocatively (perhaps only in haiku, if you're feeling particularly poetic) rather than skittering across the surface of what you want to say with nervous tangents or too many "like"s or "very"s. The more you say, the more of a chance that you will be read—or misread—by those around you, and they may consequently come to see you differently. Instead, use your eyes and your fingertips.
Those of you who are familiar at deciphering the pervasive psychic signs of which I speak, oh, what a stimulating, productive, and spiritually nourishing week you will have! Just remember to use caring and compassion to avoid karmic controversy as you're reading people's minds. To those of you who are more tuned out: If you want to join our club, find a way to quiet that ticker-tape that fills your head with disposable fears and anxieties. The New Moon in Cancer on early Wednesday morning is a fortuitous time to initiate any such extrasensory dabblings or to recommit to greater receptivity.
And to the rest of you who have no idea what I'm talking about and think I'm crazy. What can I say? You give away more of your unspoken motivations than you might think. So be aware of what you wish for; you just might get it. Like poor Willa Ford who, according to her song, desperately wants to be bad. Honey, don't worry—you are pretty bad.